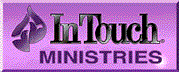 The bible teaching ministry of
Dr. Charles Stanley, senior
pastor of the First Baptist
Church of Atlanta, Georgia.
IN TOUCH reaches the world
through television, radio,
magazines, and the world wide
web to provide solid biblical
teaching for today's issues.


You can access their complete
website by clicking on the In
Touch logo above.
Devotional's
Bible Studies
Leading Others
God's Promises
What The Bible Says About...
Monthly Magazine Articles
Monthly Magazine Archives
Spiritual Journeys of Great Christians
Real Audio Messages


Real Audio Problems
Click Here